Dormers
Create space beneath a steep roofline, generate added headroom, introduce light and charm with the addition of a dormer window. We can build custom dormers in the "shed," "A-frame" or "Dutch" styles. A few examples are shown below.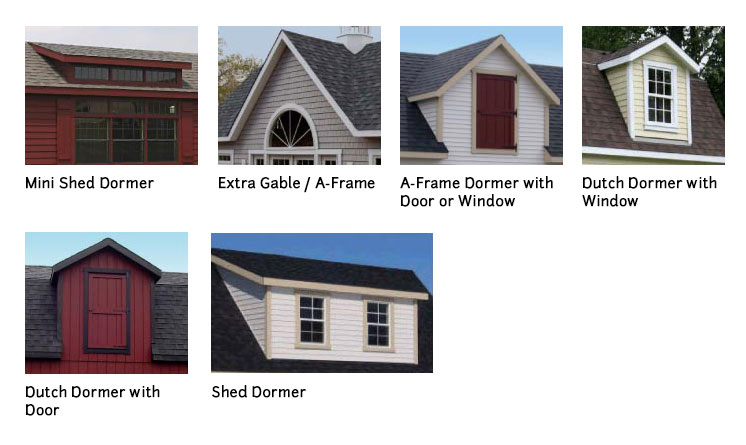 Mini Shed Dormer
This subtle dormer choice adds architectural interest by adding a complementary angle to the roofline. It also provides an added interior illumination. There is a particular visual charm to the Mini Shed Dormer, especially when combined with other architectural options. Put this selection on your palette of options to consider.
Extra Gable / A-Frame
This large dormer adds a sense of spaciousness to the interior, and is a great option for structures used for work or hobby spaces. Notice that the eave of the dormer meets the eave of the shed, forming a complete extra gable extending to the full height of the roof.
A-Frame Dormer with Door or Window
This traditional style dormer is designed to add headroom and extra light or outside access to the second floor of Elite models. It is available with either a window or with a door, as shown here, which some folks find helpful for storage purposes. This style dormer visually breaks the roofline.
Dutch Dormer with Window
One or more Dutch Dormers will have you thinking "Old World," with the charming elegance it brings to large Elite models from Classic Garden Structures. The front of the Dutch Dormer aligns with the wall just below it, showing a roofline beneath it and serving as an attractive visual frame.
Dutch Dormer with Door
Sometimes you might want to move things into and out of the second floor of a large Elite model. Yes, there are stairs inside. But some people like the idea of direct access, which is where this version of the Dutch Dormer comes in handy.
Shed Dormer
The shed dormer is highly functional for adding interior height and with windows added helps provide additional light and ventilation. The Shed Dormer turns a simple shed into something special.
Interested in Learning More?
Our high-quality garden sheds are a stylish and useful addition to any property. Call us at 717-768-0457 or click below to hear from the dealer nearest you.