Windows
Classic Garden Structures come with a selection of three types of windows: traditional wood, aluminum and vinyl. Although windows come in an extremely wide range of sizes, we typically select the window sizes to proportionately fit the facades on which they appear. Special window configurations are available, and can make a big functional and aesthetic difference in structures made for purposes beyond simple storage.

Wood
Our basic wood windows provide a traditional look, and feature true "divided-lights," or panes, each separately contained within the wood strips called mullions (verticals) and transoms (horizontals). The exteriors arrive primed and painted in your color of choice. Window interiors arrived unfinished, and with basic pine trim.
Vinyl
Widely used in all types of residential applications, we use thermo-pane, or double glazed, insulated vinyl windows. In addition to the insulating value, vinyl windows are virtually maintenance-free, and come in a wide range of styles. Vinyl windows come in White as standard, Ivory or Clay.
Aluminum
The aluminum windows we use are designed for long-term maintenance-free service. They are fitted for use with screens, which can be a good option for structures serving functions such as a potting shed or workshop where added ventilation is important. Our aluminum windows come in white or bronze.
Transom Windows
Small rows of windows can be located above doors and larger window configurations to add drama and style. Transom windows are available in all three material types noted above.

Shutters
Shutters also come in various styles, including rectangular framed, vinyl raised panel and traditional Z-frame. We make the shutters ourselves from maintenance-free composite materials. Where necessary, rubber door impact knobs are applied to protect shutters from swinging doors. Shutters are painted in the color of your choice.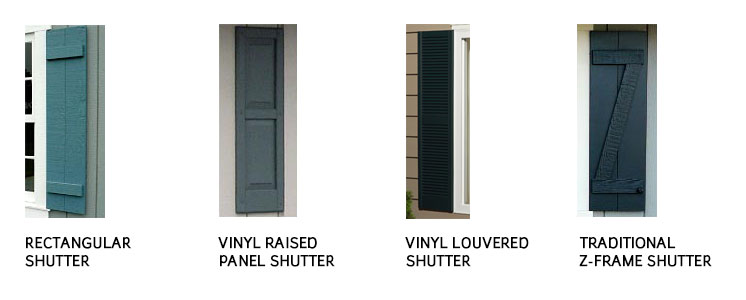 Interested in Learning More?
Our high-quality garden sheds are a stylish and useful addition to any property. Call us at 717-768-0457 or click below to hear from the dealer nearest you.